Everything You Need to Know on the Israeli Real Estate License Exam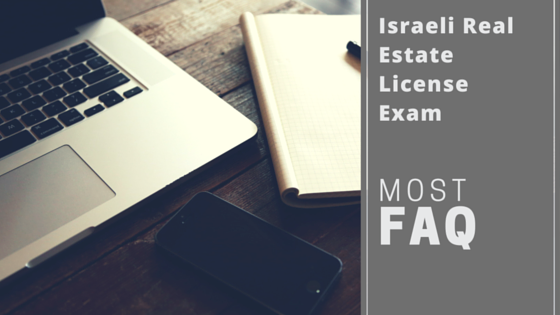 Whether you're a real estate veteran abroad or just building your real estate career in Israel, the first thing to consider is earning your realtor's license.
All real estate agents in Israel are required to pass a licensing exam and be registered by Israel's Realtors Registrar. In order to be registered as a realtor and receive your real estate license you must first pass a Hebrew exam, and there are no shortcuts.
With exams taking place once every three months and with the study material written in formal Hebrew, many Olim Chadashim struggle to study for the test and find it all very confusing.
With over four years of experience working closely with Olim Chadashim helping them study for and pass the test, we've compiled some of our most frequently asked questions in hope to give you clarity and help get you started on the right track.
Have questions or comments? Please feel free to email me or let me know in the comments below.
Good luck! 🙂
FAQ's
I've worked as a real estate agent abroad. Will I be able to transfer my license?
This is a very common question we get, and unfortunately, no, there's no transfer of real estate licenses from abroad. Your experience will definitely give you an advantage on the field, but regardless to your many years of experience, you'll still need to pass the Hebrew test.
How do I study for the exam?
The 'Misrad HaMishpatim' (The Ministry of Justice) has a booklet available with all the information you need to study for the exam.
A booklet containing the "Collection of Laws" can be purchased from 'Dror' at www.halachot.net
For additional information, please call: 03-5490545.
Now, if Hebrew is your Mother tongue, then you could probably study for the exam on your own. But bear in mind, that the Hebrew level is high and they tend to ask tricky questions, so having good Hebrew alone does not guarantee you'll pass the test.
As an Oleh Chadash, however, studying on your own is probably not the best idea. I strongly recommend that you join a group or study program to help you study for the exam, I mean why struggle with the Hebrew words and context if you can get help, right?
We at Su Casa TLV Academy offer a great solution for Olim Chadashim wanting to pass the test, and with our online English course, you can study anytime, anywhere and as much as you need. 
Want to know more about our online English course? Click here. 
Fill out the form and get access to our first lesson for FREE. No muss, no fuss and no strings attached.
The ideal time frame for studying for the exam is about two months before the exam date. Most our students feel the need to repeat the classes, while some (depending on their Hebrew level) only go through the entire course once or twice.
Given the high level Hebrew and having to understand the context, I suggest that you set aside a few hours a week for studying.  
Start as soon as you can to avoid the stress, and the more serious you take it from start, the higher your chances are of passing.
How do I register for the exam?
The Misrad HaMishpatim (Ministry of Justice) website has been updated, making it much easier to register for the exam online. Please note that the site is in Hebrew and you must register for the exam in Hebrew.
Also, registration for the exam opens two months before the exam date and closes a month before. So you only have a one-month window to register. Once registration closes, there's nothing you can do but wait for the next exam. Just make sure to keep a reminder and register as soon as registration opens.    
You can register directly through the Realtors Registrar website (link) by filling out the Hebrew form and paying online.
For our video tutorial for registering online, please click here.
There's a one-time, non-refundable application fee of 499 NIS which can be paid by credit card via a secured online payment page.
Once you filled out all your details and paid for the test, a letter will be sent to you with the following details: approval to partake the exam as well as the place, time and your seat number.
The 'Misrad HaMishpatim' (The Ministry of Justice) branch in Jerusalem that deals with real estate brokers can be reached at: 02 654-9333.
When and where do exams take place?
Exams take place once every 3 months and are held at the International Congress Center (ICC) in Jerusalem.
The exam dates for 2018 are as follows:
Winter term:
Sunday, 21.1.2018 at 12:00 noon. Registration commences Tuesday, 21.11.17 and ends Thursday, 21.12.2017·
Spring term:
Tuesday, 24.4.2018 at 12:00 noon. Registration commences Sunday, 25.2.18 and ends Sunday, 25.3.18·
Summer term:
Monday, 23.7.2018 at 12:00 noon. Registration commences Wednesday, 23.5.18 and ends Sunday, 24.6.18·
Autumn term:
Wednesday, 17.10.2018 at 12:00 noon. Registration commences Friday, 17.8.18 and ends Monday, 17.9.18.
Is it an open book exam? Can I bring a dictionary to help me with my Hebrew?
As long as you've set aside enough time to practice and studied well, you should have no problem in understanding the questions. The exam itself, although written in high level Hebrew, is not hard, but the questions do tend to be tricky.
The exam takes two hours and consists of 25 multiple choice questions. It is an open book exam where you are given the material on site. You can bring a dictionary or an electronic dictionary along with you, you cannot, however, enter with an iPad, or bring your own study material.
As an Oleh, you are entitled to an additional 30 minutes' extra time to complete the exam.
Remember: preparation is key, so giving yourself enough time to study for the test is paramount if you want to pass.  
How much do I need to score in order to pass?
You will need to score at least 60 in order to pass and obtain your realtors' license.
How long does it take for the results to arrive?
The results are mailed to you within 30 days and usually you'll be notified beforehand by SMS with your score. If you scored 60, this means you passed (YAY!) and with your results, you'll be given a license application form for you to fill out.
Whoo Hoo!!! I've passed. Now what?
Congratulations on passing the exam!!! Your test results should arrive any day now and along with your results, a license application form should be attached for you to fill out and mail back to the Realtors Registrar's Office. Once they received your form, they will run background checks, and once approved, they will mail you a letter stating that you are pre-approved for license attaching a one-time payment slip of 973 NIS for your license and registration.
You can pay the fee either through postal bank or online by credit card through the Israel's Realtors Registrar secure payment website.
Your realtors' certificate will be sent by registered post.
Your realtors' license will be issued only after you paid the fee and mailed a recent passport photo to the Realtors Registrar postal address.
Your license will then be mailed to you.
Your realtors' license is valid until the 31st of December of that year and so long you wish to practice working as a realtor, you should renew it annually.
The annual renewal license fee is 487 NIS.
Personal Note
I hope you found this post useful.
If you have a question that was not covered here, please feel free to email me or let me know in the comments below.
If you're looking to get into real estate in Israel, but finding studying for the Israeli real estate license exam difficult and tiresome, get on board to success and ask us about our online English course.