Tel Aviv Shoreline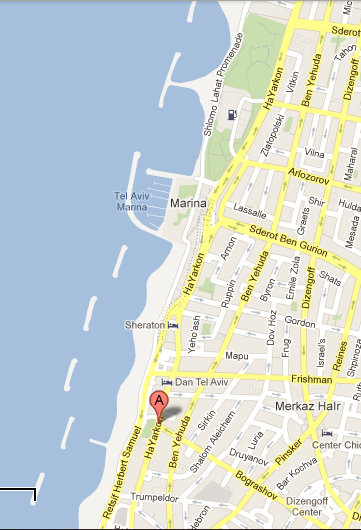 Tel Aviv has been named "the city that never sleeps" and a "party capital" due its thriving night life, young atmosphere, famous 24-hour culture, golden sandy beaches and sparkling shores.
Considered to be the ninth best beach city in the world, Tel Aviv's promenade offers outdoor fun in the sea, cafés, bars, and night life, as well as top of the line hotels.
Its most popular beaches are located along the main strip, where Geula Beach is just off of Geula Street, the Jerusalem Beach is by the Opera Tower, Bugrashov Beach is by the King David Hotel, Frishman beach is just at the end of Frishman St, and Gordon Beach is at the end of Gordon St.
The famous 'Atarim Plaza' overlooking Tel Aviv's Marina and the historical Gordon Swimming Pool, with the Hilton Beach nearby along with the Independence Park, Tel Aviv's long stretched shore is a haven for sun worshipers from all over.
Arguably, the locals' favorite, the Mezizim Beach (named after the famous 1970's 'Mezizim' movie), is the northernmost beach and with the nearby port, Mezizim beach has been the top choice for families and incomers offering nearby parking lots, restaurants, cafés, shops and more, turning an ordinary fun day in the sun into a complete family outing.
The city is famous for its wide variety of restaurants offering traditional Israeli dishes as well as international, fare-stroll anywhere in Tel Aviv and you are sure to find fine dining. From more than one hundred sushi restaurants (the third highest concentration in the world!) and an Italian restaurant awarded as "the best Italian restaurant outside of Italy" by the Italian Ministry of Agriculture, Tel Aviv offers a wide range of dining experiences
The real estate along the shoreline of the city is equally varied and beautiful, offering high end living with outstanding sea views. Walk one or two streets back from the main road and you are in an entire different setting with serene, tree lined streets shade classic Bauhaus buildings alongside modern architecture.
With over 1.5 million foreign tourists visiting annually, it is rated as a top international destination by the New York Times, the Los Angeles Times and the Toronto Star.
Wandering the Tel Aviv shoreline in a warm summer evening will assure you a pleasant and most enjoyable outing, as it offers so much and more.