Nahalat Binyamin and the Yemenite Quarter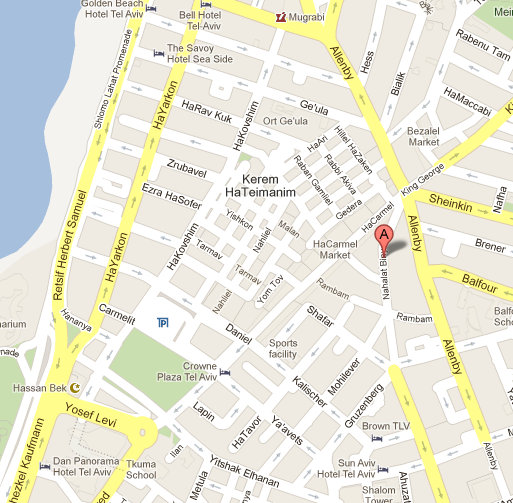 In the quaint neighborhood of Kerem Hateimanim (Vineyard of the Yemenites), one is swept away into a world of a hundred years ago, wandering through crooked streets fragrant with the smells of spices and jasmine.
Kerem Hateimanim, established around the turn of the last century by Yeminite Jews, is tucked away between the Carmel Marketplace and the beach in central Tel Aviv.
The last two decades have seen significant rejuvenation and gentrification of the area as the local municipality invested heavily in its infrastructure. While the artsy bohemian crowd has recently embraced the area, it remains a traditional neighborhood, with many of its residents dating back to its establishment.
Now you can find young urban attractions taking root, with vintage boutiques and local bars springing up alongside century-old synagogues.
The slow process of gentrification in this neighborhood has preserved its old-world quality. Characterized by its twisting alleyways and architecture styled after the low-roofed Yemenite houses, you may get lost in its winding side streets. Even so, if you follow your nose you are sure to end up at a delicious location! Small ethnic restaurants dot this neighborhood, serving up such delicacies as homemade 'Hummus' and 'Malawach' (a crispy pancake type dish served sweet with drizzled honey, or savory with spiced tomato mixture, boiled eggs and herbs).
The nearby Carmel Market, the largest open-air market in Israel, teems with fresh local produce, sweets shops and more. Take your pick of passion fruit, selected wild mushrooms or artisan goat cheeses, and then hop on over to the Nahalat Binyamin.
Actually a long street that extends into the nearby Florentine neighborhood, the beginning of Nahalat Binyamin Street is closed to car traffic and is the home of a popular arts fair. On Tuesdays and Fridays, local artisans line the streets showcasing their wares, and the bustling outdoor market is a favorite of tourists and locals alike.
Take your pick of an amazing assortment of handmade crafts – leaves and other dried flora dipped in gold and fashioned into jewelry, hand painted journals bound in leather, a glassblower who shapes charming brightly hued animals from molten mounds, Judaica pieces galore, photography, street musicians and more.