Sell your Tel Aviv apartment with Su Casa TLV real estate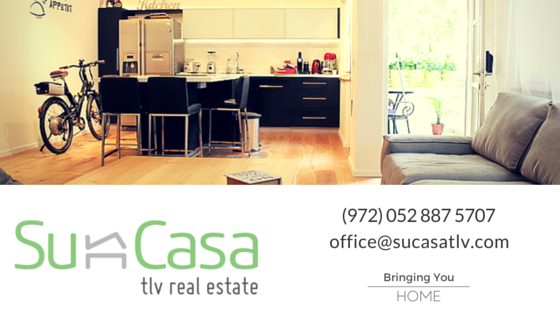 Selling your home is a big financial and emotional decision, and yet we believe the experience should be stress free, rewarding and even enjoyable.
Our job and purpose is to promote your Tel Aviv home in an effective, professional, creative and expedited way. We have specific, tailored marketing plans for each home we market, and each requires maximum visibility to potential buyers both online and in the real word. We bring in vast talents and insights to every marketing project, offering highly efficient, personal service, with outstanding value.
Truth is, the real estate market moves fast in Tel Aviv, but we move faster. Our seamless blend of old school values and new school tactics gives us the edge over our competitors and our powerful marketing approach is no different. It's no secret that today, over 92% of prospects use the internet to house hunt; this strongly indicates how marketing your property online is exponentially more powerful than any print ad in today's Internet Superhighway.
Our marketing approach is 100% digital and 100% effective, utilizing online ads, inbound marketing tactics, social media platforms and more, creating a strong web presence around your property.
Our cartoon video sums it up in less than a minute 🙂
How We Work
Personalized. Each property marketed by Su Casa TLV is given personal attention with outstanding innovation. From professional photography to show off your property's best assets, to personal home showings, rest assured your property is being marketed with the greatest care and attention, justifying our valuation to potential buyers and making sure the right people come to view it.
Comprehensive. We use every means possible to portray how your property caters to the lifestyle and patterns of our customer base. We enhance the property's advantages by presenting it to be as part of a neighborhood and city as a whole, with a focus on its location, easy access to amenities and many of Tel Aviv's attractions.
Engaging.  Our inbound marketing approach is both powerful and effective, as it allows us to connect and engage with clientele all over the world. We make use of high quality content to share on social media platforms to build a solid web presence, start conversations and spark interest in your property.
Highly Targeted. We exclusively target a quality consumer base by promoting your listing to the widest possible buyer audience and to the right brokerage community.  We use on-line advertising abroad to ensure that your property is properly marketed and that each piece of marketing content is precise to reach the right audience.
Want to find out more? Read more on the process of selling your Tel Aviv home here.
If you're ready to sell your home or just have questions about the process, feel free to talk to us today. We will be happy to set up a non-binding consultation with you in which you will be able to form an impression of the range of services and advantages offered by us.