Israeli Real Estate License Exam Online English Course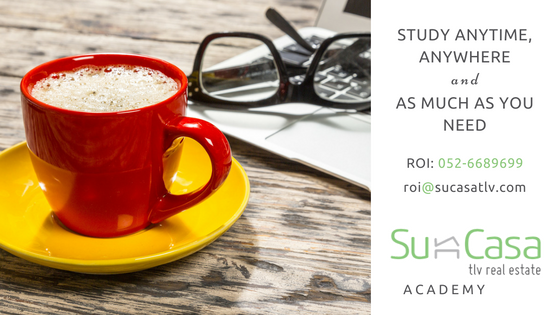 Whether you have years of experience abroad or considering a new career in real estate, in order to work as a professional real estate agent in Israel, you are required to pass a Hebrew licensing exam and be registered by Israel's Realtors Registrar.
With exams commencing once every three months, and with the study material written in formal Hebrew, it is unfortunate that many Olim Chadashim struggle to prep for the test, causing many of them to fail, ultimately postponing the beginning of their real estate career.
But don't let this discourage you. We might have just the right solution.
Keep on reading if you're looking for a course that:
✔ Accessible anytime, anywhere
✔ Will save you the time and hassle of figuring out studying on your own
✔ Will give you the necessary skills to pass the exam even with basic Hebrew skills
✔ AND give you the freedom to study at your own time and pace
One of the great things about our online course, is the flexibility and easy access our students get to our lessons.
No commuting  backwards and forward to class, no memorizing and taking down notes, no trying to fit class to your busy schedule and no skipping classes and missing out on the important stuff.
With our online course, we've got you covered.  
Study anytime, anywhere and as much as you need.
Still not convinced?
Below we've compiled a list of some of the most frequently asked questions we get from students inquiring on our course. Hope this will give you clarity if you're considering on taking our online class.
Fill out the form and get access to our first lesson for FREE. No muss, no fuss and no strings attached.
Have any questions or comments? Feel free to email me at: roi@sucasatlv.com  
Q: Why choose your study program?
A:
Passing the Israeli real estate license exam is a big challenge for many Olim Chadashim looking to kickstart their real estate careers in Israel. So we thought of a way of making studying for the test easier.
English Course
Our courses are conducted entirely in English, making it easier for Olim Chadashim to study for, understand the material, and pass the test.
High Success Rate
Our learning method makes for an easy way to digest the study material.
We've broken it down allowing you to not only understand the laws and context, but reach the exam date with confidence.  
Targeted for Passing the Exam
There's a lot of material to cover when studying for the test. And if your Hebrew is at beginner's level? It can be very overwhelming.
So we've designed our course to teach you ONLY what YOU need to know in order to pass the exam.
Here's what Ruthie Yudin, one of our students has to say about studying with us:
"I studied with Roi Shahaf for the real estate license exam and I highly recommend him.
Roi is kind, smart and incredibly patient. He was always willing to answer every question of mine, no matter how stupid it was! He never made me feel like I was asking anything I couldn't.
Roi gave me the confidence I needed and did not have. He pushed me to push myself and it is because of him that I passed this test.
My hebrew is terrible and I never thought I could do it, but I worked very hard and there is absolutely no way I could have passed without him.
I will be forever grateful to him."
Ruthie Yudin –
Licensed Real Estate Agent
Q: I have the English translated Book of Laws. Why not study on my own?
A:
The English version of the Book of Laws is simply a translation of the Hebrew book. It can help, but it is no guarantee that you'll manage studying for the exam on your own.
The key to passing the exam lies in your capability of reading and understanding the laws in Hebrew. If you know the translation of the laws in English, that's great, however, it won't do you much good for passing the test.
Also, you could easily get lost with the amount of material you need to study for the test, so having some guidance throughout the study process, will go a long way.
Q: How do I know your classes are any good?
A:
Excellent question! Why not try it out for yourself and sign up to our first lesson for free?No muss, no fuss and no strings attached. Take it out for a test drive and decide for yourself. You can always go through testimonials written by our students and see what they have to say about studying with us.
Q: When should I start studying?
A:
The ideal time frame for studying for the exam is about two months before the exam date.  Most our students feel the need to repeat the classes, while some (depending on their Hebrew level) only go through the entire course once or twice.
Given the formal Hebrew, and having to understand the context, I suggest that you set aside a few hours each week for studying.  
Start as soon as you can to avoid the stress, and the more serious you take it from start, the higher your chances are of passing.
Q: Who's your course suitable for?
A:
Our online English program is suitable for anyone who's an Israeli citizen and about to take on their real estate license exam.
Q: Where do your students come from?
A:
We have students applying for our courses from all over Israel, with a high concentration of students from Jerusalem, Modi'in, Tel Aviv, Ra'anana, and Herzeliya.
With the challenges of relocating to a new country, adapting to a new culture and learning a new language, as an Oleh Chadash trying to establish a new career in Israel, we know how overwhelming all this can be.  
Knowing that we've been a part of such an important step, is the reason behind our Academy, and we've had the privilege of teaching Olim from France, Switzerland, Germany, Austria, The U.S, England, Scotland, Brazil, Italy, Turkey, South Africa, Australia, Argentina, and we're even proud to point out that Roi, our course teacher, has had the opportunity to teach the course in Spanish.
Q: I'm not sure I want to commit to real estate. Maybe I should try it for a while and then decide?
A:
You should definitely take the time to figure out if real estate is for you.
You could browse through our Academy for Agents section on our website to get a better understanding of what being a real estate agent in Israel is all about.
However, and this is important for you to know – regardless to what many real estate agents may tell you, practicing real estate in Israel without a license is a criminal offense punishable by 12 months in jail!
Q: If the exam is in Hebrew, how will I manage?
A:
There's no escaping the fact that the test is in formal Hebrew.
As the laws are taught in Hebrew, in order to make proper use of our studies, we require basic Hebrew reading skills.
If you're capable of reading the laws in Hebrew, then through our teaching method you'll begin to develop an understanding the laws, and if you're giving yourself enough practice time, then sure enough you're on the right track to passing the test.
Q: I have very basic Hebrew, will I be able to study through your course?
A:
Our classes are held entirely in English, making it easier for many Olim Chadashim to study for the test.
However, given the exam is in Hebrew, we teach the laws as they are in Hebrew and we encourage our students to read them in Hebrew as well.
We cover one topic per lesson and the study material is broken down to laws and context, making it a lot easier on our students to study.
We emphasize a lot on practice time, and go over real previous exam questions to make sure our students stay on top of things.
Q: What other forms of assistance do you offer in case I need any?
A:
Our students get unlimited* access to our online classes, giving them the freedom to study from anywhere, anytime and as much as they need.
In addition, we offer two webinars** and access to our closed Facebook group which is a hub for all our students to post comments, ask questions and start discussions.
Q: What if I fail?
A:
Studying for the test is tough, I'm not going to lie. Even native Israelis find the study material hard to digest.
So no matter how hard you study and prep for the test, still, there is a chance you'll fail.
But don't let this discourage you. We're here to prepare you for the exam and give you all the right tools to pass.
And the best thing about our online course is that you can repeat the classes as much as you need.
Our advice? Study hard and take it one step at a time.
Don't stress out if you don't understand everything from day one, it's okay. This is why we're here. Set aside a few hours each week, and start studying as soon as you can to avoid any stress.
And if you failed? Don't be so harsh on yourself, you can try again by taking on the next exam, where only this time, you'll come a lot more prepared.
Q: If I fail? Will I need to purchase the course again?
A:
Absolutely not! We are with you in this until it's over! You'll have access to our classes until you get your license, and you can join our webinars free of charge. We only ask for one thing in return – study hard, pass the test and share your experience with others by writing us a testimonial ☺
Q: How do I sign up for the course?
A:
Enrolling is easy. By filling out the form, you'll be directed to a page with instructions on how to create your free trial account. And voila! You'll have immediate access to our first lesson. Give it a try, let us know what you think and we'll move on from there. Easy.
Q: Do you offer training or mentoring for success in working as a real estate agent after I get my license?
A:
Our mission is to provide Olim Chadashim with the knowledge and skills required to succeed in their real estate career. We are working hard on creating digestible courses and workshops, aimed to coaching you into becoming that successful real estate agent you set yourself to be. Stay tuned or ask us for more details.
Want to know more? Click here for more details.
* Copyrights: We offer unlimited access to our online course. Access is private and intended to the use of our students ONLY and is NOT transferable. All rights to our online classes and teaching methods are reserved to Su Casa Tel Aviv Real Estate.   
** We offer two webinars a month to our students and each student is granted access to two webinars during their course. Invitations to our webinars with dates and times will be sent  via email and reminders will be announced on our Facebook group.
*** The collection of Laws and exam questions are taken from real previous exams and are reserved and restricted by copyrights to the Israeli Realtors Registrar and the Israeli Ministry of Justice.