Central Tel Aviv East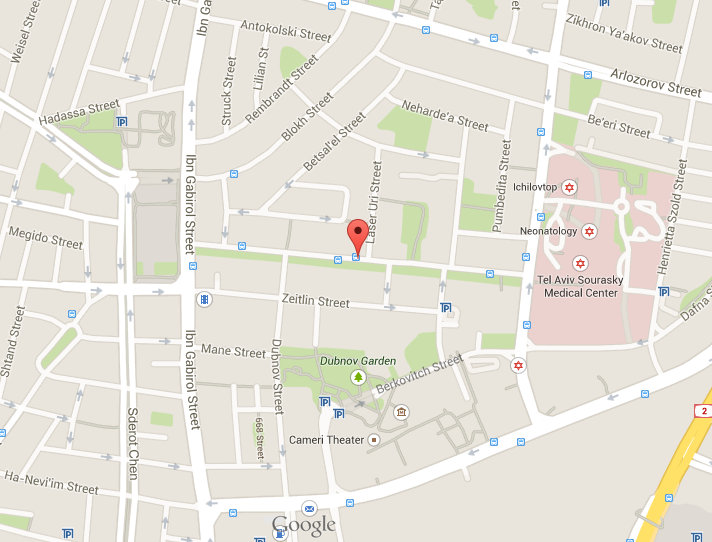 In the heart of Tel Aviv's cultural arena, embodying the very essence of Tel Aviv's new character and appearance, resides this green, serene neighborhood offering a hotbed of cultural happenings, with some of Tel Aviv's leading institutions of art and culture, among them The Tel Aviv Performing Arts Center, The Opera House, The Cameri Theater, The Tel Aviv Museum, Bet Ariela Library, Heichal Ha-Tarbut and ZOA House, as a back drop.
Central Tel Aviv East is bounded by Ibn Gvirol to the west, Weizman Street to the east, Arlozorov Street to the north and Eliezer Kaplan to the south.
Kikar Rabin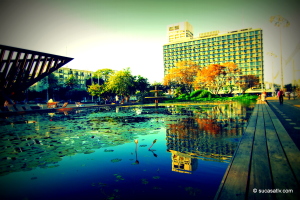 Formerly known as "Kikar Malkei Israel" Kings of Israel Square, Kikar Rabin is a large public square located in the heart of the city. In 1995 the square was renamed 'Rabin Square' following the assassination of former Israeli Prime Minister Yitzhak Rabin which occurred there on November 4th of that year.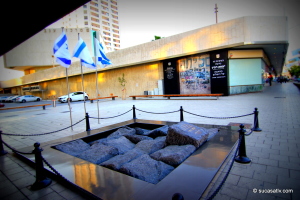 Designed alongside the city hall by architects Yaski and Alexandroni, it is the city's hub and gathering place, where over the years it has been the site of numerous political rallies, parades, and other public events.
Brasserie
This immensely popular French restaurant, gives diners the impression they were whisked away to Paris. From its meticulously detailed Art Deco interior to its nicotine stained ceiling and hardwood floors, the Brasserie is a paean to the traditional Parisian grand brasserie and it's located in the heart of Tel Aviv just opposite Kikar Rabin. The Brasserie runs 24/7 offering something for everyone and with its' yummy boulangerie just next door serving delicious, fresh baked goods – Paris has never been closer.
Sderot David HaMelech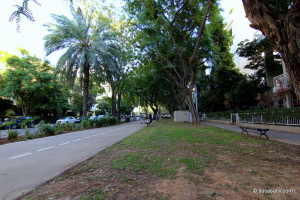 Sdeort David Hamelech is a wide, well-known residential boulevard in the center of Tel Aviv, running from Rabin Square eastward ending at the Sourasky Medical Campus. In the 1930's, Jewish pioneers planted Ficus and Sycamore trees along the boulevard for shade. Today, these trees provide residents with an umbrella of shade from the sun enabling them to sit outside and enjoy, any hour of the day.
Dubnov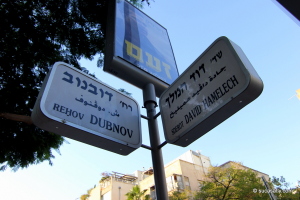 One of Tel Aviv's finest streets, Dubnov runs parallel to Ibn Gvirol and bounded by David HaMelech Blvd. to the north and Eliezer Kaplan to the south.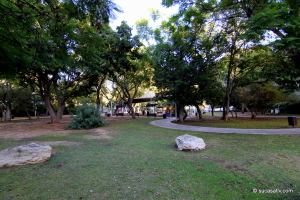 Its public garden is one of the reasons its' famous for – Ginat Dubnov (The Dubnov Garden) is a peaceful, public garden in the middle of the street and is a haven for everyone to enjoy and relax.  Although it is right in the center, surrounded by bustling streets and Cultural Centers', it remains a quiet, green residential street with a fine Bistro Restaurant at the beginning of the street.
Dubnov 8 – The Tel Aviv Classic, is a bistro, bar-restaurant and coffee shop with something for everyone.
Jurists, attorneys, business people, career army personnel, politicians, artists and scholars are the residents and everyday people you will see around Dubnov Street.
ZOA House
A favorite venue for folk and classical plays, Israelis flock in great crowds to this Zionist-born building to enjoy celebrated international and Israeli productions. International classics such as Shakespeare's Macbeth are staged alongside Polish folk productions in Yiddish. Most Israeli plays are shown in Hebrew, with the occasional Shakespeare popping up in English.
The ZOA House also has a restaurant/cafe on the ground floor that is known by some locals as "the best cappuccino in Tel Aviv."
Sderot Sha'ul HaMelech
Sha'ul HaMelech boulevard is home to Tel Aviv's art and cultural centers. Nothing beats dinner and a show or a play and this is the place to go in Tel Aviv.
From the Israeli Opera to Beit Ariela, from the Tel Aviv Museum of Art to Egozi Gallery Tel Aviv there's something for everyone who has the heart and passion for art and culture.
The London Ministers mall offers a selection of restaurants, cafés, bars and clubs and with the adjacent ZOA House, you sure have a variety of night-life activities to choose from.
Sarona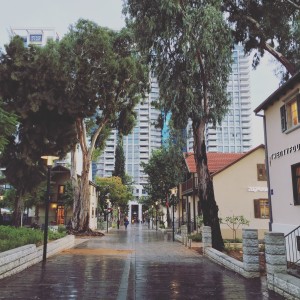 The gorgeous Moshava (agriculture establishment) was founded by the highly motivated Templar pioneers, who knew how to overcome all the difficulties awaiting them in a foreign land. Sarona became a Moshava that was full of life, with places of entertainment and successful businesses, and with visits from residents of the new city built alongside it, Tel Aviv.  Today, Sarona is a true European cultural treasure in the heart of Israeli reality.
Sarona encompasses all areas of our lives – history, culture, art, leisure, shopping, entertainment, restaurants, family, and friends, and is the ideal combination of old and new, luxury and simplicity, and all of Tel Aviv's beautiful spots – Neve Tzeddek, Rothschild Boulevard, the Port of Tel Aviv, Kikar Hamedina, and Old Jaffa.
The 'Sarona' complex is the midst of history and early settlement in Israel offering an extensive environmental development with cafés, restaurants and galleries, top boutique stores, cycling tracks, pedestrian roads and on-going entertainment for the entire family, and with its Sarona Market, an indoor market offering a wide selection of fresh produce from local farmers alongside great restaurants and café's – it truly is a great place to shop for getting into that cooking mode.
Whether lying near Beit Amot Hamishpat Bldg, wandering the Tel Aviv Museum of Art, enjoying a performance at the Tzavta, Opera or ZOA Auditoriums, relaxing at the Dubnov garden, having a taste of Paris at the Brasserie, strolling the Sarona complex or simply sitting on a bench under a tree on David HeMelech Boulevard, Central Tel Aviv East has the best of what Tel Aviv has to offer.