About us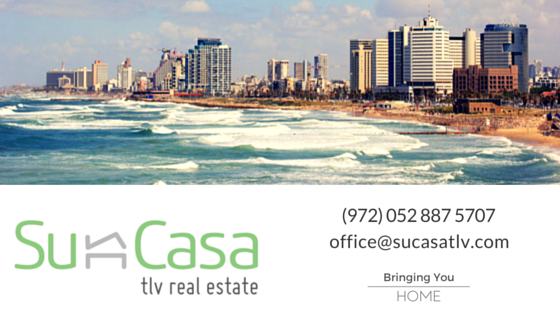 Founded in 2008 by Joanna Stromze and Roi Shachaf, Su Casa Tel Aviv Real Estate is an independent, full serviced real estate brokerage with a focus on the Central Tel Aviv market offering highly efficient personal service with outstanding value.
We're firm believers in the 'do what you love, love what you do' philosophy, and it is through our love for Tel Aviv and passion for real estate blending seamlessly into our day-to-day lives, that we take great pride in what we do, reflecting this in every aspect of our business with high quality, personal service, detailed knowledge and outstanding innovation.
Our Values
We have the expertise to expose your property, showcase its merits, and professionally facilitate the transaction.
We have the experience to work closely with each and every one of our clients to help them find the right home in Tel Aviv.
We have heart. Our core value is service to our clients above all else. We understand that customer service is not relegated to behind the desk, it is a full time, all-encompassing attitude, and we reflect this attitude in all that we do.
We are passionate about real estate and marketing, and we bring that energy to all of our projects.
We innovate. We are not interested in the old methods of property marketing – in today's fast paced market, you need to break the mold by being fresh and creative. Our holistic inbound marketing approach is designed as such to create a strong web presence around your property.
We bring your property to life. Your home is not just four walls and a door, and it is our job to showcase your property as part of a whole picture – neighborhood ambience, local attractions, and more, our marketing imparts the full experience of living in Tel Aviv to our customers, whether buying or selling.
We give your property the highest exposure to a highly targeted demographic. The reality is that great sales stem from great marketing and Su Casa TLV gives your Tel Aviv real estate the maximum exposure and best presentation.
We are candid and transparent in all of our communications and practices. With our wide range of free factual information, you get real tools and resources to explore the local real estate scene.
We are Su Casa TLV, bringing you home. We are the must have service for all your real estate needs.
Give us a call today to see how we can put our service to use.